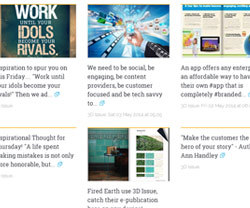 Wouldn't it be wonderful if all the stuff we browse online could be aggregated in one place like a Hub. Hanging out in a virtual Hub is something you can do today! This Hub can be tailor made by you to include all the content you read online on a daily basis, no need to manually update; as the Hub automatically updates as new content is added to your original feeds.
You can aggregate social feeds from your choice of news, sports, fashion, lifestyle websites, you can choose only to add new blogs, or trending news stories, you can add anything really! The possibilities are endless. For example, if I wanted to add a blog I follow, I would add the URL to that page. Like so www.3dissue.com/blog.html/ My magazine looks like this; please click on the image to see the aggregated Hub open.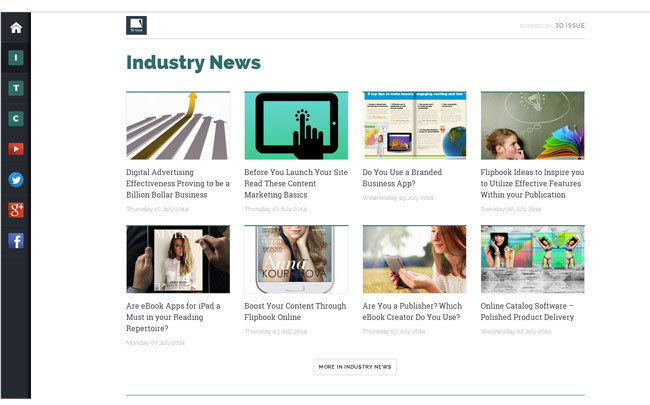 Businesses can avail of this too, aggregating related content that their markets are interested in and by adding their own corporate content this creates a dynamic new form of content marketing.
The Hub can pull in what's happening in your social platforms as well, YouTube, Facebook, Twitter, Instagram, LinkedIn and so on. Having all this literary and visual information aggregated together with your choice of feeds saves you opening all the tabs on your browser, not mention the logging in of passwords. So that, now all you will have to do is check one place, your personal place where the info you want is constantly updated to keep you informed on the latest breaking stories in the fields you are interested in.


The magazine you create will be in HTML5; this can be viewed on any device, giving scope for sharing and marketing possibilities. If you want to even further personalize your magazine you can choose colors, fonts and styles and import your own cover, images and icons to be fully customized to your corporate brand.

Thank you for reading today's blog, I hope I have enlightened you enough to give aggregating your own social feeds a try. For more info on aggregation tools see this blog on the subject.
By Audrey Henry