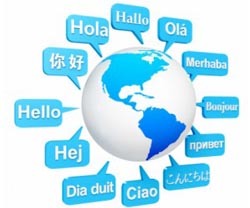 In our blog today we will take a look at a great tool available in the 3D software to enrich your flip magazine and reach your global audience. With 3D Issue you have the possibility to change the language of all the buttons and text displayed in the reader interface and rollovers – The software is available in English, Spanish, French, German, Italian, and Korean.
What kind of benefits can this tool provide?
– It helps you connect with your audience in their own language and in this way build up your relationship with them.
– It provides your readers with the opportunity to select the language/s they prefer
– It helps new users to get a clear instruction on readers' tool and important messages throughout your publication
– It reassures readers that you have their needs at heart and this can encourage them to communicate with you via e-mails or comment options in their own language

Creating digital publications in multiple languages can be done following a simple procedure. Reach your global audience more effectively and expand your horizons creating an outstanding flip magazine in your target audience's language! For more information, check out this interesting blog post on 'Creating digital brochures in multiple languages' and drop us an e-mail at customerservices@3dissue.com for queries, comments or ideas.
By 3D Issue