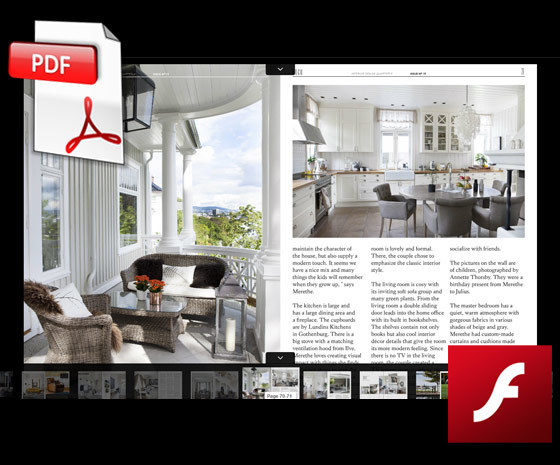 In today's blog, we will pose the question "Does a PDF to Flash e-magazine really have the power to captivate an audience?" This quandary resides as one of the main challenges for any digital publisher seeking to create a unique digital magazine; with the intension of being a show stopper for its target market.
There is no question good design, interesting articles and a dab of interactivity as an added entertainment bonus in a publication are the main and vital elements for success. Publishers should strive to especially utilize interactive elements as they add to the engagement and enjoyment of the content encouraging longer viewing times.
According to Computer Weekly, the UK company CoreFit have recently released a new workout app.
The article states that "this is not a fitness application that you use alongside a fitness magazine; this is a fitness application bridging the divide between an app and a magazine, with enhancements for readers to interact with the content."
In this particular case, we can see that the digital technology can provide the interactive features required to enhanced e-magazines and take your relationship with your readers to a higher level.
This article asserts that a mix of aggregated content chosen by the users together with publishers, brands and articles of choice is the way forward. The content we see on screen must be ever changing, updating regularly and give us the basis we need for interacting our personal plans and needs.
"Digital magazine publishers absolutely must move on from the print mindset and monthly format in order to create content-rich, engaging experiences in line with other app models – Spotify, iPlayer, YouTube, Pinterest and so on. Whether the user dips in for five minutes every day, or perhaps once a week for a longer form read – the experience must be fluid, customizable – to a point – and fresh," said David Hicks, digital product consultant at Hicks Digital.
In conclusion, I feel the company has recognized the needs and wants of its customers and consequently, it has introduced new interactive tools as a response.
One of the key characteristics of digital readers is their interest in novelty through an engaging reading experience; so it is vital to include interactivity in your e-magazine and also provide for the creation of mobile apps for this content.
The 3D Issue e-magazine software suite allows you to create media-rich publications to offer your audience an exclusive reading experience through embedded videos, flash, audio clips and web links, and content aggregation. These are only some of the interactive features at your disposal in the 3D Issue software, for more information on 'How to create an e-magazine', visit our e-guide resource section or drop us an email at info@3dissue.com for any queries or comments on the interactive features available to design a striking digital edition.
By Audrey Henry