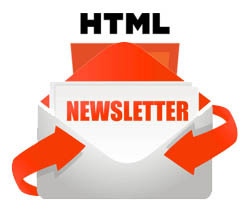 In marketing terms, newsletters were and still remain one of the most effective ways of reaching out to your target audience with company news, upcoming projects and any other business information relevant at the time of publishing. Newsletter marketing is not only a cost effective initiative, but when handled correctly it can lead to closer contact with your client base and the benefits that this will bring your company. There are a few factors that you have to keep in mind in order to maximise the newsletters potential.
1. Content is king!
Good quality, relevant content is the base you should always plan your newsletter around, an email inbox is a busy place, you have to ensure you stand out from the crowd. The first thing someone will see when they open their e-mail is the content line of the mail, this is your, (sometimes only), chance to grab the attention of your intended recipient. Keep the subject line short and to the point, make it catchy and use genuine, unique selling points. Adding the personal touch of using the intended's recipients name is just one example of how you can use the subject line to have a positive effect on the open rate of your newsletter.
Once you get the consumers attention, you have to retain that attention with clear, concise, relevant content that will engage and educate your audience. The customer has come to you by signing up for your newsletter marketing; it's up to you to maintain that relationship. This can be achieved through quality, relevant content that your customer base is interested in hearing. Too many companies rely on placing emphasis on quantity rather than quality in their newsletters; this can actually have a detrimental effect on your end goal.
You should also consider including promotional material or competitions that will encourage engagement with your audience, your goal is to engage with your customer leading them to invest in your product.
Other methods can have their benefits, a quick example that springs to mind is social media, while undoubtedly a great tool when used correctly, in terms of 'stickiness', social media is a very instant fix, your post can have an effect but it needs to be noticed quickly before it is replaced by a newer post, with email newsletters, they stay in your inbox until acted upon by the consumer ensuring that one way or another they will be seen eventually.
A subject line should be catchy and to the point, offering the consumer an incentive to open the mail, this can be achieved through 'power words', (we all like to see the words 'free' in our subject line!). Another important factor for customer retention is the content within the mail should be relevant not only to the customer, but should also be reflected by the subject line on the mail, (i.e., don't promise something on the subject line that you don't deliver in the content of the mail, all you will be doing is ensuring that next time you send a mail it won't be opened).
More often than not, the subject line of the mail is the only thing between you and the delete button.
2. Know your audience
The people who have subscribed to your Email newsletter are the ones who should be on your mind when you are deciding what content is going to be included, before you think about anything to do with the design of the newsletter, you should be asking yourself -what are their interests, what is it we want to share with them? What is likely to resonate to their needs? These are the areas you should be targeting.
Most companies will have a mailing list, a set of people who have subscribed to hear from you and the content and information you will convey. This is your target audience, these are the people who have gone to the trouble of signing up to your newsletter and as such, your email template should reflect this. You really have to learn about your customers and potential customers wants and needs, do this and you are well on the road to opening lines of dialogue and interaction with your target audience.
3. Your brand – be instantly recognizable
The primary objective is that at first glance, your newsletter should reflect your brand instantly, you want any rapport you have built with clients to be instantly recognizable.
4. The importance sharp headlines within your newsletter
It is not all plain sailing though, with the volume of web traffic and emails we receive every day, it can be very easy for the consumer to get swamped in a deluge of inbox traffic. It is for this very reason that you have to put due consideration into not only your email templates and their overall design, but also the finer details like the subject line, a factor often overlooked by businesses when conducting such a campaign.
Your content and specifically the headlines should be tailored to catch the intended's attention, you have a very small window of opportunity where you will have the client's interest, use this time wisely by ensuring that your great content is matched by an equally interesting headline to maximize the open rate of your newsletter.

5. Publish to any platform

By using platforms such as 3D Issue Hub you can output your content and your magazine in pure HTML5; using these techniques will ensure it can be ported and viewed on any device. The power of the internet is in most people hands, pockets and hand bags; mobile phone culture is now a fully accepted part of society. This seismic shift in communication and online availability demands that a different approach should be examined and if necessary, pivots performed when it comes to your strategy and the methods you utilize.
Your newsletter will then automatically adapt to fit the resolutions of any desktop, laptop, tablet or smart phone device. Your content will also be able to be outputted to ePub3 and kindle formats.
This is vital in terms of mobile phone browsing among consumers; this method of browsing the web is on the rise year in year out and is showing no signs of abating. Recent studies have shown that mobile traffic can make up as much as 50% of your online traffic, a statistic that no business can ignore; can you think of any company that can afford to overlook 50% of its consumer base?
No, neither can I.
Mobile browsing is an absolutely crucial, mammoth marketplace and one which should be utmost in your thoughts in your approach to newsletter marketing.
This is a crucial aspect when considering your email newsletter, picture this, you have your subject line reflecting on the fantastic content you have spent time putting together for your customer. They, like many others, are living a fast paced life where they do most of their internet browsing on their phone; then say your newsletter isn't constructed using HTML 5, they then can't view it properly on their preferred device. However good their intentions, chances are that's the last time they will look at your newsletter. A recent survey found that in France 90% use their mobiles to access the web every day, 90%, take a second to digest that, this figure is simply too much traffic to ignore.
6. Images and content
By default, most email programs are set to block images at first until your address is added to the safe list of e-mail addresses of the individual account. You should keep this in mind when it comes to the design of your e-mail newsletter, that striking yellow text laid over that lovely brown shaded image that looked so good when initially designed may lose its impact somewhat when shown over a white background, all because your image didn't load.
An easy way around this is by using such publications as 3D Issue Hub to construct your e-mail newsletter; you can provide a link to the publication that can contain all your blogs, information and images in one easy to access location.
7. Key factor
The overall key factor of e-mail newsletter design is building a relationship of trust with the intended recipients of the e-mail newsletter. They have to know that you are not just pulling together everything available to you and putting it into a newsletter and sending it to them, the consumer has to be able to initially see, and eventually trust, the relevance and content within your newsletter for it to stand out from the crowd.
Amalgamate all of the aforementioned factors and your chances of reaching your target audience will be greatly enhanced, you will stand a much better chance of reaching your audience on their preferred device and not the bottom of their trash basket!