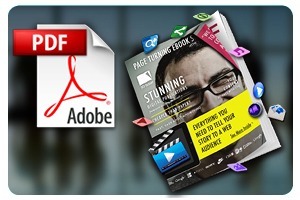 Nowadays, digital publishing tools can provide you with a wide range of features to bring your publication to life and as a result provide your end reader with an engaging experience. Nevertheless, the foundation of an effective digital edition has to do with the quality of the content the content of your PDF.
How can the quality of the content of your PDF enhance your possibilities to reach your target audience?
•  Content versus platforms: Your PDF content should be appropriate for the platforms you have in mind. For instance, if your readers are going to view your edition via mobile devices or tablet, then your content should be designed accordingly. In this particular case, using short sentences, phrases and bullet points are effective means to provide your readers with the feel and look of a real magazine.
•  SEO: Your content should include the words or phrases, which are searched by your target audience. Using these key words will let your target audience find you easily and in that way, you will reach them more effectively.
•  Channels of communication: Keep updated with the latest trends and know your target audience well enough as to produce the kind of content that can be engaging and attractive. Implement techniques to assess what your readers think about your content, analyse their comments and respond to their expectations making the necessary changes to satisfy their needs.

In our blog section, we have recently discussed the different view points of leading business figures on digital publishing at the PPA Digital Publishing Conference. The general consensus at the conference was that 'the focus should be on the content and not on the platform'
As a result, we can say that the fundamental premise of content quality is back as a priority for publishing companies. If you are interested in making the most from your PDF content to create stunning digital edition, download a free guide on 50 Ultimate Digital Magazine Tips and Tricks.
By 3D Issue