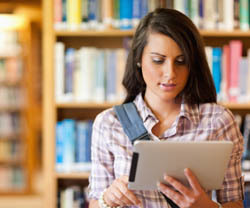 1. Increase reader attention
Tablets provide the hardware for connecting today's college students. Almost 9 out of 10 college students think that tablets are valuable for both education (86 percent) and personal entertainment (88 percent), according to the Pearson Foundation. It's the perfect storm for students who want to save money on books, engage in the classroom and connect with friends.
2. Better study habits and performance with tablets increase reader attention
According to a 2011 Pearson Foundation survey, 86% of college students who own a tablet say the device helps them study more efficiently, and 76% report that tablets help them perform better in their classes. In order to cater to a generation weaned on technology, educational institutions need to be at the forefront of the tablet revolution. Tablet devices can reinvent and improve the way a curriculum is consumed and often replace the hard-copy textbooks that students lug around campus.
3. Interactive learning leads to better retention
Studies show that interactive content can boost learning retention. Students prefer to learn by doing, versus seeing or reading. When they interact with videos, charts, and graphs, they retain more information. Digital publishing can help transform passive learners into active participants.
4. Knowledge and learning material more accessible
Digital publishing allows professors or subject matter experts to self-publish their own educational materials or research findings and distribute the information on tablet devices. Teachers can iterate content quickly, better keeping pace in a world where knowledge evolves every instant. On a smaller scale, they can post lesson documents online for students, versus relying on hard-copy materials.

5. Reducing printing and distribution costs
By producing digital versions of education literature and publications, you can substantially cut printing costs, leaving you with more budget for other learning and marketing activities. Distributing heavy printed prospectuses can be very expensive, not to mention slow. Using a digital distribution channel you can get your message out to a wider audience, immediately with no postage costs.
6. Sustainable solutions
Digital publications easily reach a wide audience across platforms and devices like the iPad, Android tablets and the Kindle Fire. Not to mention, access is quick, cost-effective and friendlier on the environment. In many cases, content can be created once and delivered to multiple platforms and operating systems, reducing the cost of publishing while simultaneously reaching broader audiences.
By Linda Daly