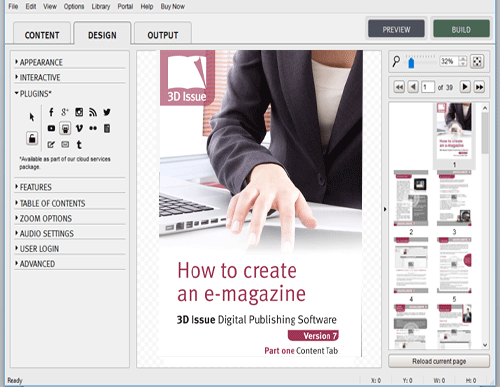 It's an exciting day here at 3D Issue HQ as we launch version 7.3, which is available now. The new version is full of new and enhanced features, to ensure you get the best from your digital editions. We always have one thing in mind when thinking on improving and that's you. We strive to suit your needs by taking your feedback into consideration.
Here are 12 things you need to know about the new 7.3 update:
1. Pinch to zoom: One of the core features of this release has always been to add pinch and zoom to our digital editions to enhance the reading experience for your audience. We are delighted to announce that this has now been integrated and is now available in our native apps as well as in the web version of any digital publication that is viewed on a mobile or tablet device.
2. App Enhancements: We have made a number of aesthetic improvements to our mobile platform such as sharper page quality, smoother transitions and an enhanced library news-stand navigation.
3. More Plug-ins: 3D Issue has added tons of more plugins that allow you to absorb content from your existing social channels and have that content displayed within your digital magazine.
You can now:
• Import your documents and presentations from SlideShare
• Add in videos from Vimeo as well as YouTube
• Add photos from Flickr as well as Instagram
• Aggregate your blog from Tumblr
• Manually add articles via our built-in editor
• Allow contributors to submit articles via approved email addresses
4. Enhanced Tracking: We have upgraded our tracking feature to enable you to have better event tracking by the inclusion of universal analytics from Google.
5. Option to output your digital magazine to only the HTML5 version: You can now choose to disable the flash version of your digital magazine by choosing to output to only the HTML5 version.
6. Mobile PDF Downloading: Should you want your readers to be able to save your publication when viewing on a mobile or tablet we have added a new feature that will allow them to download and store a PDF of that publication locally onto their device. You can now download a PDF version of your publication onto their device
7. Single Tap Interaction: We have increased interactive experience by enabling single tap initiation on hotspots and buttons for mobile devices.
8. Enhanced Login: We have enhanced the login feature to provide you with the option of determining whether or not you would like the reader's login details stored locally or force the reader to have to login each time.
9. Update for touch screen laptops to allow magazines to work with click and touch events: With more and more touch screen laptops coming on market we have made several enhancements to the magazine engine to ensure that magazines resound to touch and click simultaneously.
10. Extra features added to mobile version: In the previous releases of our software there were a number of features that were available in the tablet and desktop versions of our software that were not available in the mobile version. We have now adding the outstanding feature set to be available in mobile view as well. The new additions include the Share, archive, about us and PDF download feature.
11. Notebook resolutions: We have made a number of modifications to the software to ensure that the software fits within the resolution of the smaller notebook that are coming to market.
12. Simplified installing: We have updated the windows installer to allow installation of software without having to right click and run as administrator.
Upgrade to version 7.3 today to avail of these features. For further information or if you have any queries please do not hesitate to contact us.