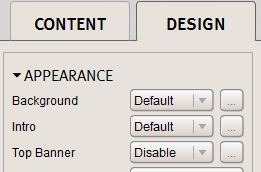 When you are creating your 3D Issue there are lots of things that are really important, most vital of course is the content itself and the copy you choose to use, and as always remembering to design with digital publishing in mind to get the most cut-through for your piece.
Also important is the backgrounds that you choose. In version 4.0 of the software you can add in your custom background which will allow you to add in an image that really is a must, using one is like seeing your digital publications for the first time – it really sets them off.
So next time you are creating a 3D Digital publication add in a background and remember it is best to use an image which is good when stretched – whilst the software will maintain the size and proportion of your publication the background will be spread across the screen, most computer users today are running their screens (studies have shown – honest….that 85% are on this res) at 1280×760 so we'd recommend you go with this as a good bench mark.
Images that work well are ones which are pretty non-descript so no faces or numbers anything which has a set 'known dimension' look can appear odd if stretched so go with general – a blackboard or snow, a grassy area or some wooden floorboards maybe.
You'll find this option on the second tab in your software Design and then Appearance, or check out the image on the left and you'll know exactly where to find it.
If you need help then send me an e-mail michael@3dissue.com or call me 9-5 (EST) +718-569-6212 (US)