As many of our customers work in marketing and marketing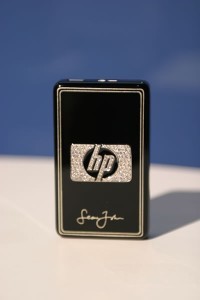 communications in particular there is some interesting news floating about today about one of the worlds most valuable brands we wanted to mention HP or Hewlett Packard to give the full title.
HP are looking at potentially re-branding to the logo in this post, which looks a little faint if we're honest but then again that may be just subjective negativity when we are so accustomed to seeing the old logo detailed on the right here.
Re-branding is always an exciting time yet also one that takes so much prior planning for execution it really cannot be underestimated, the blog where we noticed this change says that this may be a move for HP to shift in its perception amongst customers to a revered brand like Apple for example.
The re-brand is being developed by International design house movinghouse.
On a lighter note this also reminds of the little heard of HP+iPod deal back in 2004 and no it was'nt an emulator it was an actual iPod but branded as HP under a licensing agreement with Apple, rare and a real find if you can get your hands on one.
The deal lasted from early 2004 until July 2005 so short lived and if nothing else is an interesting anecdote. Oh lest we forget how odd it got when Puff Daddy the rapper actually got his own diamond HP+iPod too!.
If you are using 3D Issue Version 5 there is no need to worry about your potential re-brand every issue created is connected to the logo you specify during the set up process – if your organization is thinking of a re-brand you change the logo and all editions will then display your new logo, even retroactively on V5 publications, giving you one less thing to worry about.