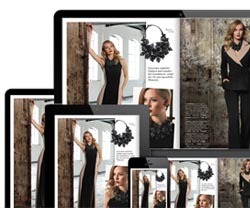 We are delighted to announce that as of today, 3D Issue version 6.3 is now available, as always we are continuously striving to improve on our publishing platform and this is reflected in the latest version of our innovative software. In this latest version we have a host of features which we believe will make the software even easier to use and further enhance the user's options while they are assembling their digital creations.
New Features in 3D Issue Version 6.3
– Telephone Number hotspots/buttons:
Now when a user adds a PDF to 3D Issue 6.3 it will automatically detect all the phone numbers in that PDF and draw a hotspot around each one. If the text is not extractable, (non-vector based), or the user wants to add more numbers in Design View, they can manually add a phone button or hotspot to these pages. County codes are added from a drop down menu for ease of use for the user. When the end reader clicks on the hotspot or button in the finished publication, the browser will attempt to open the default phone software on the reader's machine (usually Skype).
– HTML5 hotspot/button:
The ability to add a button or hotspot that links to a HTML5 animation has been included in version 6.3; this can be carried out either online or offline through a local folder that contains the animation files.
– Embedded HTML 5:
The animation will play embedded within the HTML5 version of the publication. The flash version will be slightly different, in the flash version the animation will play in a pop up window.
We have not only added new features to version 6.3 but we have also updated some of the existing features. The digital marketplace is constantly changing and we have updated certain features within the software to reflect this ever changing landscape and to keep you, the consumer at the forefront of publishing technology.

Updates to existing features:
– Custom Link Detection:
The custom link detection has now been updated to allow the user to enter a custom link that will detect Shopping Cart hotspots based on SKUs where the SKU is the catalog number within a catalog.
– Insert at:
When adding new PDF files to an existing issue, the ability to enter the location where the new pages are placed has now been introduced. For example, you create an issue that has 10 pages. You then wish to add a further PDF with 2 pages where these pages will replace pages 2 and 3 and make the existing 2 and 3 now become pages 4 and 5. To do this a dialog is displayed to the user to ask them where the new pages are to be placed, At End, At Start, Before Page (x) or After Page (x)
At 3D Issue we are continuously striving to improve on our already high standards and we believe that version 6.3 offers the consumer even more value, innovation and cutting edge technology than ever before.
If you haven't already, why not try the free, fully functional trial of 3D Issue today?