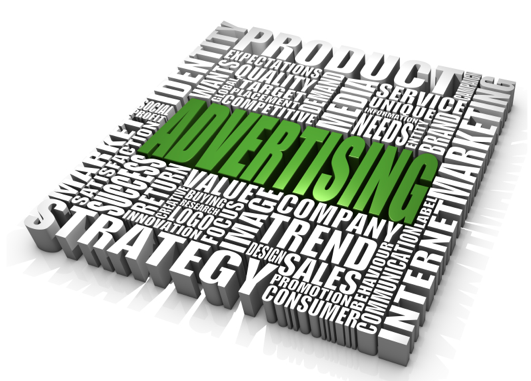 Digital advertising is set to enjoy further expansion in terms of investment in 2014 with the news that the worldwide figure will reach a gargantuan $137.53 billion.
This figure represents spending on all connected devices including desktop PCs, laptops, smartphones and tablets worldwide according to eMarketer's latest estimates which you can see below.
This spend represents a 14.8% increase from 2013 levels and will make up just over a quarter of all paid media spending worldwide which in itself is up from the 2012 figure where the overall spend stood at a fifth of monies spent globally. This figure, as depicted by the graph above is expected to rise to a third, ($204.1 billion), of all monies spent by 2018.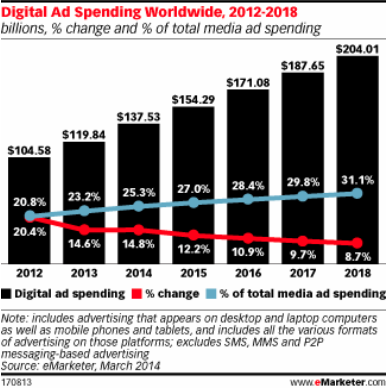 * Image courtesy of eMarketer
The US remains the single biggest spender on digital advertisements with North America the highest spending location with close to two in five digital advert dollars coming from advertisers in this region. Western Europe will account for close on one quarter of all digital advert spend with Asia-Pacific standing at 28.6%.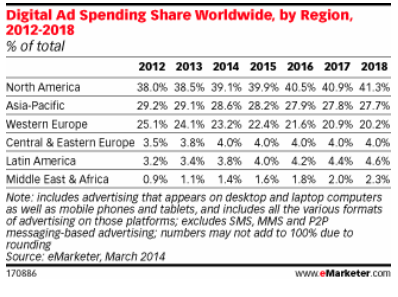 * Image courtesy of eMarketer
While the US holds the mantle in terms of the most actual dollars spent it is the UK which has the highest portion of total media spending on digital channels, at 47.5%. Denmark is in second with 40.1%, Australia in third with 37.5% and the US with 27.9%,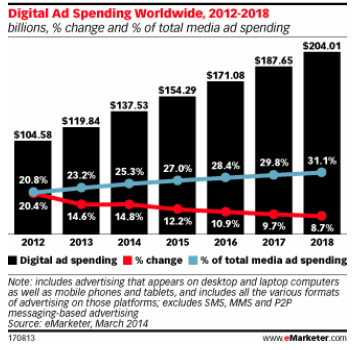 * Image courtesy of eMarketer

It is clear which way the market is expanding; last year digital ad spending surpassed broadcast TV for the first time ever when it broke the $40 billion barrier and this trend looks set to continue for the foreseeable future. The average growth for digital ad spending since 2004 has averaged at around 18%. 

Unsurprisingly mobile is playing a major role within these changes. According to figures supplied by the Internet Advertising Bureau, search remains the largest overall category with a spend of $18.4 billion in the US and display reaching $7.9 billion. To put this into context, search is growing at a rate of 8.6% , mobile ad revenue soared 110% to $7.1 billion last year while digital video ad revenue has tripled over the past few years to $2.8 billion.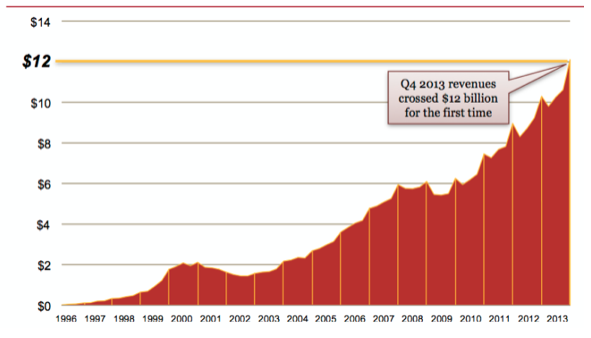 * Image courtesy of Venturebeat
Any business today has to be available online but crucially, they must also be online and available through mobile. The stats and figure speak for themselves. Over half of all emails are now opened on a mobile device; email is widely expected to flip from a desktop PC focused channel to a mobile-first channel in 2014. This trend is expected to continue to grow at an exponential rate for the foreseeable future; recent figures released by Gartner highlighted the drop in growth in the sales of traditional desktop PCs by 8.6%. This decline in desktop usage will further accelerate the migration to a 'mobile first approach' for both the consumer and the business alike.
Are you interested in exploring the options that will be available to your business through the use of 3D Issue for your online content?

Why not try the free, fully functional trial of 3D Issue and open up your business, and your approach to the world of mobile marketing to and the multitude of benefits it will bring to your business.